...exploring how people shape the world's forests
Featured Researcher – Catherine Tucker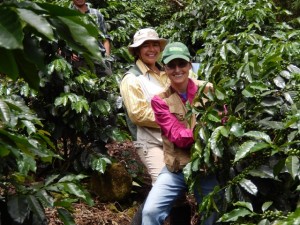 Catherine Tucker is a longtime IFRI researcher, who serves as an Associate Professor and Chair of the Department of Anthropology at Indiana University. She is also an Associate Faculty member of the Center for Study of Institutions, Population and Environmental Change (CIPEC) and Adjunct Faculty with the School of Public and Environmental Affairs (SPEA). Her work is focused on understanding interrelationships between humans and the environment, and considering possible paths toward greater social and environmental sustainability.  Her central research questions explore the relationships between people and forests, and the circumstances through which local populations may achieve sustainable natural resource management and improved livelihoods. A key component in her work is the study of the institutions (defined as the rules, norms and values) associated with community organization, development processes, and forest management.
Professor Tucker's work currently encompasses three interrelated research projects:
Coffee farmers' adaptations to market volatility and environmental change in western Honduras : Export coffee production represents a major component in the Honduran economy, and influences forest transformation trends. Changes in world coffee markets and price volatility are posing a challenge for coffee growers' livelihoods. Moreover, coffee plantations are making incursions into important watersheds and high biodiversity forests. These processes occur in a context of climate change that is disrupting traditional expectations of weather patterns. The study aims to understand what adaptations appear to be most promising and sustainable for coffee producers and the natural environment.
Community-based protected area management and water conservation: The potential for communities to create and manage strictly protected areas remains an understudied topic. She is examining the emergence and maintenance of the Montaña Camapara Watershed Reserve in western Honduras. The reserve was created by three adjacent municipalities that share the mountain, without national government involvement. The municipalities and their populations created the reserve despite conditions considered unfavorable to collective action, including border disputes and ongoing tensions among the principal actors. The reserve has experienced reforestation since its creation, which involved the peaceful and voluntary relocation of a number of farmers who had occupied the mountain. Current work is evaluating the institutional, cultural, economic and political dimensions of the reserve's creation and the difficulties associated with its management.
Communal forest management and economic development in western Honduras and Oaxaca, Mexico: Through longitudinal, comparative research in a Lenca community (Honduras) and a Zapotec community (Oaxaca), she is investigating the interrelationships among community institutions, national policies, market integration, and socioeconomic factors as they influence development processes and forest transformations.
These projects intersect with additional interests in Fair Trade and alternative trade strategies, and the roles of food production and consumption in shaping societal processes. Together these areas of research inform Professor Tucker's broad theoretical and practical interests to identify contexts that may promote more sustainable and equitable choices among individuals and societies.